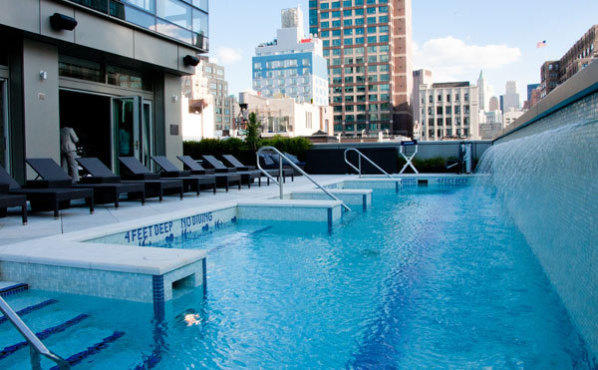 Bar D'Eau's Address: 246 Spring St. – 7th floor of Trump SoHo (at Varick – SoHo)
Bar D'Eau's Phone Number: (212) 842-5500
More Info On Bar D'Eau: Yelp.com, NYMag.com
Bar D'Eau – the restaurant/bar next to the Trump SoHo's pool on the 7th floor of the hotel – has developed a reputation for attracting a certain, um, "fans of fist pumping" crowd. However, this year, Koi Group (full disclosure: they were once my client) has taken over the F&B service, revamping the menu and diversifying the clientele by mixing in some of the chic guests to which the brand tends to cater.
As a bar, it's a good place for outdoor drinking, business drinks, girls' nights out, casual dates, entertaining out of town friends, first dates, guys' nights out, mixology, meeting rich guys and meeting hot girls.
If you're there for a meal, Bar D'Eau is a great restaurant for outdoor eating, boozy brunch, lunch, casual dates, business meals, small bites, brunch, entertaining out of town friends, people watching, romantic dates at sunset and spotting beautiful people.
Good For Casual Dates: If you want great cocktails in a relaxing setting, it's an awesome place to bring a date, sit at a table by the pool and escape the craziness of the city.
Good For Small Bites: Koi's menu revamp means a much better selection of dishes available to those who want to something to soak up several glasses of sparkling rose.
Good For Romantic Dates: It's a non-traditional place to bring someone (aka not at all Jean Georges or the like) but if you go around sunset, the setting is incredibly romantic without being cheesy.
Insider Tip: Though the pool is technically only open to hotel guests and condo residents, the dining and drinking around the pool is open to the public. However, you didn't hear it from me but there's generally not a ton of enforcement regarding who ends up swimming or laying poolside. So if you're looking for a place to cool down without getting a room, try "eating" at this spot and slyly transition to laying out under the sun.