With the city beginning to show signs of spring, it's time to head outside and upstairs. Here are my picks, in no particular order, for the best rooftop bars and restaurants in NYC:
 Salon De Ning at The Peninsula Hotel
Neighborhood: Midtown
Good For: Cocktails and small bites amongst those who want to feel rich
Details: Though making the trek to this area can often be a chore, the roof of this hotel is a welcome respite from the tourists who often can't seem to walk a straight line on the sidewalks below. A chic place with an incredible atmosphere, great cocktails and convenient small bites, before-dinner drinks have never made you feel so classy.
Neighborhood: Meatpacking District
Good For: Cheap drinks and great views of the river
Details: This frat-tastic bar turns into a great place to get above it all in the summer. With decent food and drinks that won't hurt your wallet as badly as most other bars of the same height, this is an easy place to kick back and enjoy the sun.
The Sky Terrace at Hudson Hotel
Neighborhood: Midtown West
Good For: Meeting rich guys (though they'll be old and from out of town) and kicking back on sun chairs while pretending you're on vacation.
Details: Also in midtown, the roof of this hotel is so secluded you'll feel like you've escaped to Palm Springs for the day. Though the same blue-haired crowd that lives there can make up the majority of the crowd here, if you need to just get away from it all with very little risk of running into anyone you know, this is your spot.
Neighborhood: SoHo
Good For: Spotting beautiful people and indulging in fantastic cocktails
Details: While this place can be near impossible to get into, if you can make your way there, you'll find some of the best 360 views in the city. The crowd is impossibly gorgeous and the tunes are always pumping next to the small wading pool.
Roof Garden at The Metropolitan Museum
Neighborhood: Upper East Side
Good For: Big groups of friends and stunning treetop views of Central Park
Details: If you can brave the groups of tourists crowding the elevator, you'll be handsomely rewarded once you reach the roof. The sights are like nothing else and the Upper East Side air seems somehow cleaner than the less privileged downtown oxygen. Grab a drink from the cart, scan the artwork and breathe a little more easily.
he Rooftop at The Empire Hotel
Neighborhood: Upper West Side
Good For: Excellent small plates and, with a ton of seating – both indoor and out – big groups
Details: Though well past its cool kid heyday, the roof still has a lot to offer by providing space to stretch out with a cocktail and great food.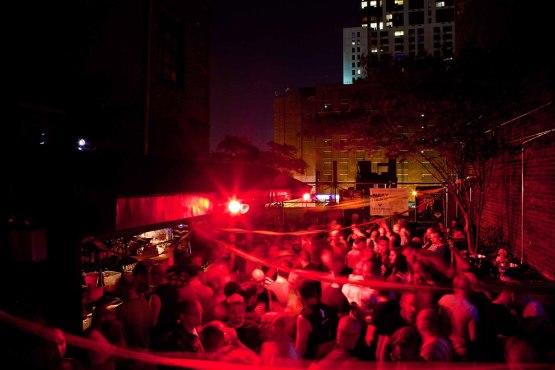 Neighborhood: Chelsea
Good For: Cheap drinks and making out in corners
Details: One of the hottest and oldest gay bars in the city, The Eagle is kind of a hidden gem as far as rooftop bars are concerned. If you're not afraid of leather, head here for a wild night out – or, if you are a little intimidated by scantily clad men, go earlier in the night before it picks up.
Neighborhood: Meatpacking District
Good For: Gorgeous people and a really good time
Details: Probably my favorite view in the city, you can't deny that this place is always a good time no matter how much the crowd may have changed throughout the past few years. With 70's inspired décor you'll feel like you're in your childhood neighbor's backyard. If your childhood neighbor could watch sunsets over the Hudson from their home while sipping sparkling Rose'.
Neighborhood: Chelsea
Good For: Casual Dates, gatherings with groups of friends
Details: Not something most people think of right away, this is a good, unpretentious bet if you're up for a last minute outdoor drink with a lot of friends. Though it can get a little fratty, the view of the Empire State Building keeps you sane as you wait for booze.
Neighborhood: Meatpacking District
Good For: A huge party time and tons of sun
Details: Yes, this place is insufferably douchey but that doesn't make it any less rooftop-y. Go here to dance and try to avoid the advances of bridge and tunnel guys while sneaking booze from bottles you haven't purchased.