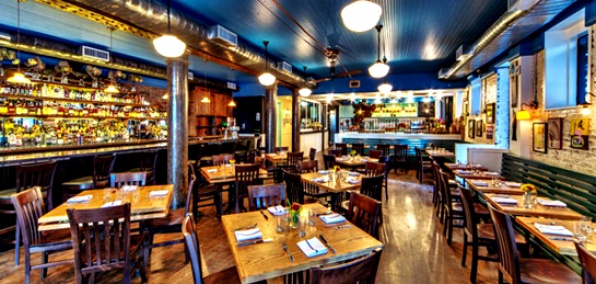 Bubby's High Line's Address: 71 Gansevoort St. New York, NY 10014 (at Washington St. – Meatpacking District)
Bubby's High Line's Phone Number: (212) 206-6200
More Info On Bubby's High Line: Menu, Breakfast/Lunch Menu, Brunch Menu, Dinner Menu, Kids Menu
Bubby's High Line is exactly what the Meatpacking District desperately needs – a chill restaurant that, unlike most every other spot in the neighborhood, doesn't blast house music and exclusively attract a "bridge and tunnel" crowd. It manages to be trendy without being a scene, a feat with which I credit the combination of "home kitchen" decor and plethora of locally sourced ingredients.
Opened this past October, it's quickly become a favorite of locals and High Line visitors alike. It's an especially good restaurant for kids, brunch – group and boozy, girls' dinner, outdoor seating, people watching, casual dates, lunch, big groups, entertaining out of town friends, breakfast and spotting beautiful people.
Good For Brunch: Weekend afternoons are usually peak time for Bubby's High Line and, though it can get crowded, the menu is totally worth any wait at the bar. It's definitely a "good"/"trendy" crowd at that time but it's the type of relaxed place you'll run into friends who also couldn't be bothered to wash off last night's makeup.
Good For Groups: Though they don't take reservations, there are tables (and combined tables) big enough for larger groups. It's usually pretty easy to get a seat at one of these relatively quickly – the only time you should plan to wait a little longer (like, 45-60 minutes) would be brunch.
Good For Out of Town Friends: It's next to the High Line, won't intimidate those from outside of Manhattan and offers outdoor seating with people watching views. Done.
You Be The Judge