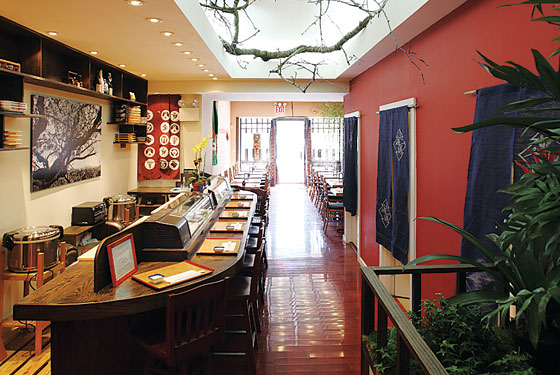 Cho Cho San's Address: 15 W. 8th St. New York, NY 10011 (near 5th Ave. – Greenwich Village)
Cho Cho San's Phone Number: (212) 473-3333
More Info on Cho Cho San: Seamless.com
Cho Cho San is positioned on the 8th St. row of restaurants in Greenwich Village on which a new addition seems to now pop up daily. A veteran of the area, it's a casual, quiet and affordable Japanese/sushi place.
While there's nothing particularly remarkable about Cho Cho San, the spot is a great place to grab an easy dinner (and $10 unlimited sake) in a comfortable atmosphere. It's also a good restaurant for casual dates, girls dinners, big groups, people watching, small bites and, of course, cheap drinks.
Good For Casual Dates: Again, it's not a particularly impressive place but the noise level is generally low, making conversation possible. Throw in the unlimited sake to lubricate said discussions and your date could even seem interesting.
Good For Groups: It's decently large space that is rarely crowded and the sushi, small bites and cheap wine that are offered make it a good place for dinner with a big group of friends. They also take reservations guaranteeing you'll get in with little to no wait.
Good For People Watching: Though the street is improving, it still attracts some interesting characters. Grab a table upfront and watch them pass by through the huge windows.