There is a reason this site is severely (*cough* entirely) lacking in Brooklyn-related content. The fact is that, while I realize the borough has a lot to offer, I have been self-diagnosed with "IGetLostWhenILeaveManhattanitis."
Fortunately, my favorite Brooklyn couple – the fabulously talented journalists, Johanna Botta and Willem Marx, have offered to help remedy this situation. Having relocated from Manhattan and London respectively, they now bravely call Cobble Hill home and – as two people with flawless taste – have graciously provided some local recommendations. Here are a few of their favorite spots in the area: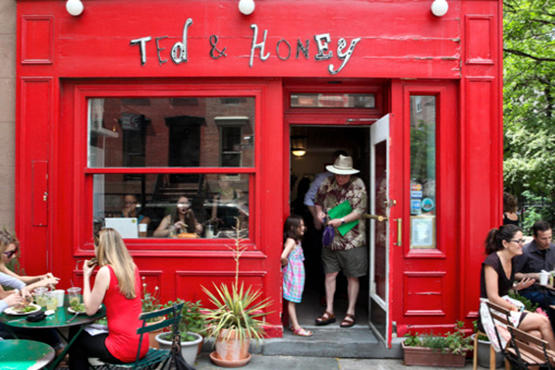 Ted and Honey's Address: 264 Clinton St., Brooklyn, NY 11201 (at Verandah Pl. – Cobble Hill)
Ted and Honey's Phone Number: (718) 852-2212
For a coffee, tea or small breakfast, we love Ted and Honey. It is so cozy and the staff is super friendly. They offer free wifi, a great atmosphere and outdoor seating, making it a fantastic place to people watch or work.
Lucali's Address: 575 Henry St, Brooklyn, NY 11231 (near First Pl. – Carroll Gardens)
Lucali's Phone Number: (718) 858-4086
For a good pizza, we go to Lucali's. The amazing, fresh pizza is made by Marco Iacono, a local celeb in the 'hood. The restaurant doesn't take reservations but if you put your name in with the hostess, they'll call you when a table opens up – allowing the chance to further explore the neighborhood while you wait. However, its best to come here during the week as it's nearly impossible to get in on weekends. If you're lucky, you might sit next to Jay Z and Beyonce (or, in a stroke of bad luck, be forced to give your table up for them).
Zaytoons Address: 283 Smith St, New York, NY 11231 (at Sackett St. – Carroll Gardens)
Zaytoons Phone Number: (718) 875-1880
Zaytoons on Smith has AMAZING Lebanese food. It's BYOB and the food is delicious – also, the portions are generous and the staff is incredibly friendly. It's a great spot for an affordable group dinner because, in addition to the large amounts of food, there's no cork fee for your bottles of wine.
Henry Public's Address: 329 Henry St, Brooklyn, NY 11201 (near Pacific St. – Cobble Hill)
Henry Public's Phone Number: (718) 852-8630
For a drink and/or massive turkey leg sandwich, we head to Henry Public. It's a "no fuss" type of bar with great beers and cocktails. Plus it's a very British looking pub so Willem feels at home
GIVE US YOUR PICKS IN THE COMMENTS