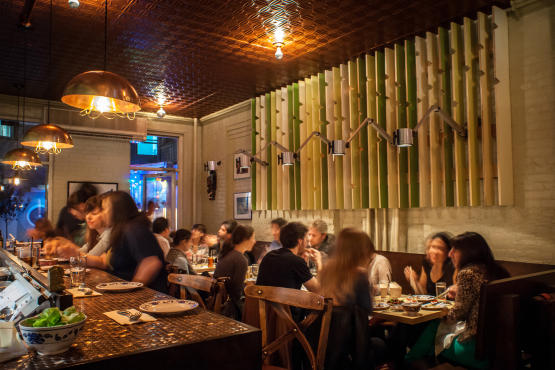 Pig and Khao's Address: 68 Clinton St, New York, NY 10002 (at Rivington St. – Lower East Side)
Pig and Khao's Phone Number: (212) 920-4485
More Info On Pig and Khao: Reservations, Menu, NYMag Listing, Zagat Rating
Pig and Khao – helmed by "Top Chef" alum, Leah Cohen – is a Southeast Asian restaurant that can chiefly be described as a delicious adventure on the LES. The meat-heavy menu is largely made up of dishes that are certifiably not intended for picky eaters and the vibe is mom's cramped kitchen meets hipster heaven.
The restaurant is a great spot for outdoor seating, brunch/boozy brunch, casual dates, and small plates.
Good For Outdoor Seating: When the weather warms up, the restaurant's back garden opens – providing a casual vibe, ideal for chill drinks after work and/or post-dinner date (should you choose to take it to that level).
Good For Casual Dates: The seating is a little cramped and the noise level can get high so it's not a place to bring someone for a meal early on in the courtship. However, once you've reached the "let's just find somewhere great to eat" stage – and you can tolerate the lingering smell of food on whatever clothes your companion wears that night – this is a cool restaurant to explore with a significant other.
Good For Small Bites: Again, the menu is a little outside the norm but if you're adventurous, gather some friends with similar tastes and grab a table here.
GIVE US YOUR THOUGHTS