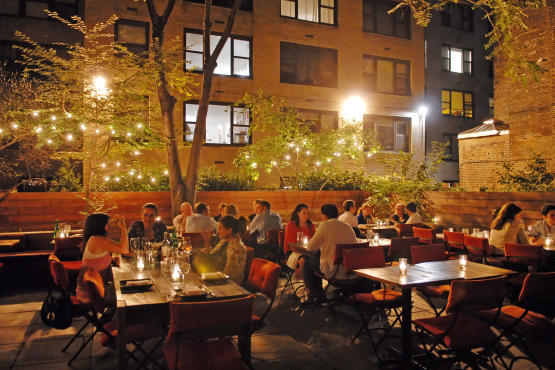 Pure Food and Wine's Address: 54 Irving Pl., New York, NY 10003 (near 17th St. – Gramercy)
Pure Food and Wine's Phone Number: 212-477-1010
More Info On Pure Food and Wine: Reservations, Menu
As a vegetarian with very few friends who also avoid meat, I rarely suggest a vegan and/or vegetarian restaurant when put in charge of making dinner plans. However, nothing makes me more excited than discovering a spot that I know will please even those who associate a meatless menu with cardboard.
The fabulous Kris Schoels, who is the genius behind YoungMarriedChic.com, recently invited me to a dinner at Pure Food and Wine – happily resulting in the discovery of such a restaurant.
Beyond exposing heavy meat eaters to amazing vegan cuisine, Pure Food and Wine is great for groups, casual dates, lunch, small bites, girls dinners, outdoor seating and spotting beautiful people.
Good For Casual Dates: If you're meeting up with someone who leans toward "healthy eating," (which, for the record, I do not) this is an impressive place to suggest – whether or not you also "take care of yourself." Everyone will be happy and your date will appreciate your willingness to try new things.
Good For Groups: There's a room in the back, though the kitchen, that easily accommodates big groups – just be sure to make a reservation well ahead of time because this place is incredibly popular.
You Be The Judge