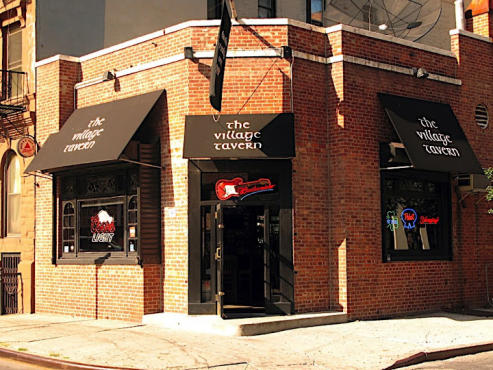 The Village Tavern in the West Village is a good NYC dive bar for cheap drinks, watching sports,  casual dates, girls' nights out, guys' nights out, meeting hot girls, meeting hot guys and picking up one night stands. Here are a few more tips:
Good For Watching Sports: This is more true for daytime sporting events as, at night, the bar turns into a party and is not accommodating to the true sports fan who just wants to watch the game. Another perk? There are a ton of bar games available, including a pool table, so you can entertain yourself with a little more competition during breaks.
Good For Casual Dates: Again, only if you go before 11 or midnight. However, even if you show up and it is too crowded, the back room (with the pool table) usually provides a respite from the noise. If there's room at the bar, the bartenders are great and generally willing to add to the conversation should it get boring.
Good For One Night Stands: For the most part, this bar attracts young, formerly athletic frat guys turned finance guys and the girls who love them. If you show up late night, there's a high chance you'll find someone suitable who is willing to make a guest appearance in your bed.
Village Tavern's Address: 46th Bedford St. (at 7th Ave. – West Village)